TIME TO MOVE TO THE NEXT LEVEL AND BECOME FLUENT!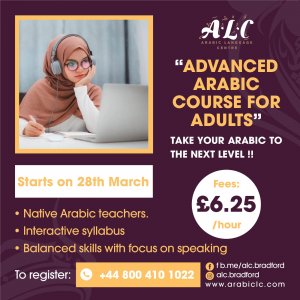 The Arabic Language Centre (ALC) would like to announce the starting of new advanced Arabic courses for adults (Separate Male 🚹and Female 🚺 classes are available).
The candidate can join if they finished an equivalent of 450 hours of learning Modern Standard Arabic.
Our teaching staff are native Arabic speakers with over 5 years of teaching experience.
Location: Arabic Language Centre – Bradford – BD1 3ET
Course Duration: 46 hours
Course Timing: once a week
Male class: Sunday 🕢 19:30 – 21:30
Female class: Thursday 🕛 12:00 – 14:00
All classes will take place online. On-site classes will resume in May
❗❗Starting date is on 28th March❗❗
Fees: £6.25/hour – full advance payment is required for the full course.
If you are ready, fill in the registration form online using the link below and we will get in touch soon.
https://arabiclc.com/enrolment/
Best regards,
ALC Team
0800 410 1022